All matting materials are museum quality, acid-free, to print-only prices add an additional $15.
For prints framed in a natural wood frame (cherry, walnut, or cambia) there is an additional charge of $50 - $135, depending on frame size.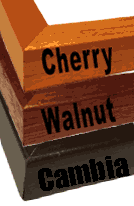 We frame using a True-Vue reflection-free glass called UV-70. Increased prices reflect use of this glass, which is equivalent to museum glass in its reflection-free aspect with a little less UV protection (70% instead of 99%).
I use very lightfast pigments in my prints and haven't been able to achieve fading, so feel this is an ideal glass for my work.
| | | |
| --- | --- | --- |
| Here are cherry (left) and walnut. | | Here is one in cherry. |
| | | Here are oak (left) and maple. |
| | "Book about the Universe" in cherry | |
| "Lakes of the Clouds" in walnut | | "Snow on Cannon Mtn." in walnut |
| | | |
| | | |
Please note, colors over the Internet may be deceiving. The walnut is the darker wood (a deep brown, not very red). The cherry is reddish, darkening a bit over time. The cambia is darker than the walnut but not black. Its color is more consistent than the walnut, making it easier to match multiple prints in groupings.